Student Transportation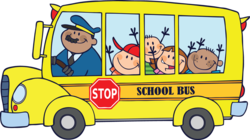 Student transportation is provided at no cost to all students living 2.4 km or greater from Woodbridge Farms Elementary School. Find out if you qualify using the Versatrans e-Link tool available on the division website.
We encourage parents to take advantage of the EIPS' secure online payment option to pay transportation fees by accessing the Powerschool Parent Portal.  All transportation fees are due on or before June 30, 2018.
Families accessing Payride or school-of-choice busing pay a fee for transportation services. General information, applicable fees, and FAQs about busing are available on the Student Transportation page of the EIPS' division website.
If you have questions about Student Transportation, contact them at 780-417-8151.
Bus Safety & Expectations
Elk Island Public Schools (EIPS) and Woodbridge Farms Elementary School strive to provide safe and peaceful bus transportation for all our students.  Most of the students at Woodbridge School follow the expectations set our by EIPS and the school.  We appreciate these students who demonstrate consistent, positive behaviour while riding the bus.
The link below is provided as a reminder for students and parents to assist us in maintaining bus behaviour and dealing with those situations that occur at times.